21 julio, 2015
The calculation of each shipment's energy consumption and emissions is carried out in accordance with STANDARD UNE-EN 16258:2013 and has been externally verified.
Integra2, Grupo Logista's controlled temperature capillary transport company, has incorporated into the information system for clients details of their shipments' carbon footprint.

Integra2 participates in Grupo Logista's Quality and Environmental Strategic Plan, involving 5 countries: Spain, France, Italy, Portugal and Poland. As part of the actions defined in the Plan, Integra2 calculated in 2014 the greenhouse gas emissions resulting from all its direct and indirect business activities.

Taking a further step towards sustainability and operational efficiency, Integra2 has improved its IT systems to proactively inform its clients of the emissions and energy consumption of each service carried out, by including this information on the invoice.

The system implemented is based on the internationally recognised calculation method Greenhouse Gas Protocol and the specific standard UNE-EN 16258:2013 for quantifying and declaring energy consumption and greenhouse gas emissions in freight transport services.

Integra2's system performs an automated count of the distance travelled by each vehicle in the different phases of the transportation process, proportionally distributing the freight's real distance and each consignment's load to each shipment. The specific consumption factor defined in standard UNE-EN 16258:2013 is applied to the data collected from each stage (Collection, Long Distance, Delivery) in order to determine the energy consumption used to deliver each shipment.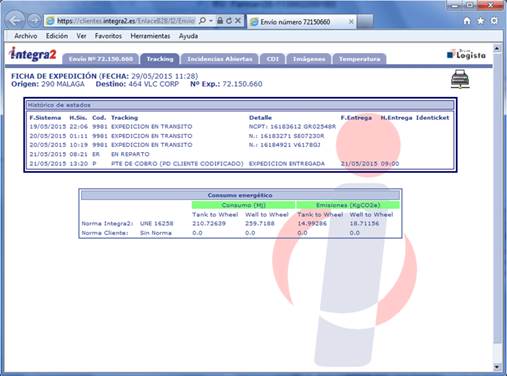 This monitoring allows us to offer a reliable and concise calculation of emissions in kilograms of CO2 equivalent to a service, for any of Integra2's clients during a certain period of time. The calculation of the total provided includes both the Tank to Wheel and the Well to Wheel index, meaning that the emissions calculated take into account the entire process from fuelling to the emissions generated by the vehicle itself.

The information provided by Integra2 helps its clients to know the carbon footprint resulting from the transportation of their goods, in order to complete total emissions in the useful life of their products.
In a clear vocation for transparency, Integra2 has voluntarily participated in the exter​nal verification process which concludes that the methodology and the applied procedures reliably represent the information in a coherent, objective, transparent and accurate fashion.

​​​​